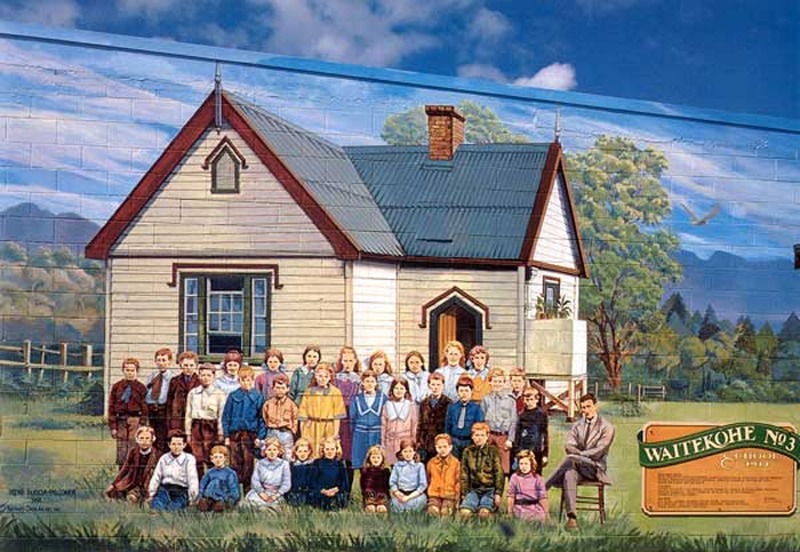 Katikati, also known as "The Mural Town", is a great little town with lots of interesting things to do and see. It is situated just 5 minutes drive from the Kaimai Country Lodge.
Athenree Homestead:
This is a beautiful old homestead built in 1878, for many years it lay in a state of disrepair until in 1991 it was bought by the Western bay of Plenty District Council. A trust was formed and has been adopted by local volunteers who are gradually restoring the house and garden to its former glory. Athenree Homestead is open on the first Sunday of the month and every Sunday in January until the end of March.
Murals:
Katikati is like an outdoor museum with 44 murals depicting Katikati's history from the early arrival of Maori tribes of the Ngati Te Rangi and the Ngati Ranginui, through to the European settlement by the Irishman George Vessey Stewart who founded Katikati and bought 34 families to settle in here in 1875 and then in 1878 a second party of 600 Irish settlers arrived. Each mural tells a story about the events and people who shaped the history of the area.
Haiku Pathway:
This pathway stretches 2km along the banks of the Uretera Stream. As a millennium project the pathway was opened in 2000. There are 24 engraved river boulders along the walk displaying Haiku poems. There are also many other interesting sculptures.
Markets:
Every Friday afternoon there is a local growers Plant and Produce market at the local AMP grounds on Katikati's main street. Then there is Moggie's Market held once a month on the 2nd Saturday of the month outside the War Memorial Hall.
Arts and Crafts:
The beautiful murals and sculptures around Katikati Township are all testament to the many artists and crafts people of the area. Follow the Katikati Arts and Crafts Trail or take a short drive south to Te Puna where there is an interesting array of little galleries and shops and a cafe with lots of interesting New Zealand made arts and crafts on sale. It is called Village@7.
Katikati Bird Gardens and Cafe:
There are 50 varieties of bird life at these bird gardens. This beautiful and peaceful harbour side garden, Gallery and Cafe is set in 10 acres of lush gardens full of birds including many native birds such as Kotuku-ngutupapa (Spoonbill), Kea (Mountain Parrot), Kereru (Wood Pigeon), Kawaupaka (Little Shag), Piwakawaka (Fantail), Papango (Teal Diving Duck). These gardens are open 7 days and on weekends between June and September. The bird gardens are situated 7km south of Katikati.