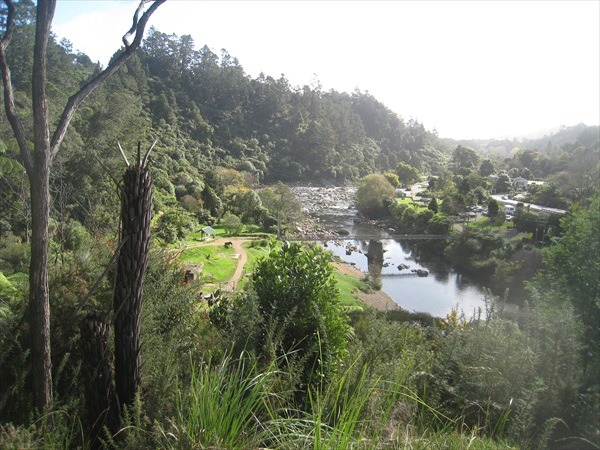 Above is a view of the old gold mine site in the Karangahake Gorge about 20 minutes drive from the Lodge. We spent a very pleasant afternoon with friends exploring this area which was very interesting seeing the remains of the 19th century gold industry which flourished in this valley over a hundred years ago.
The Windows Walk takes you through old gold mine tunnels and workings with spectacular views as you look out across the gorge. It is important to remember to take a torch or mobile phone light with you as the tunnels can be quite dark and rocky underfoot. The Windows Walk does not take very long so after that we took the track along the river to Dickie Flat. It is 4 km return and takes 2 hours. The walk is lovely and wander along the native bush clad track beside the Ohinemuri River.
Dotted a long the the track are reminders of the old mining history including a whole in the rock with part of the river gushing out of it. It is a very pretty track and after going through yet another track and then over a swing bridge you arrive at an expansive clearing and bend in the river where locals often camp in summer and swim in the pools in the river. It is the perfect place for a picnic lunch.