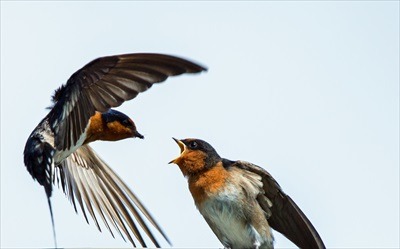 It is a while since I made a blog entry as we have been busy with Christmas and grandchildren and guests. It is our busiest time of year with lots of guests from all over the world as well as New Zealand. In the past week, we have had guests from Auckland, Spain and our first ever guests from Russia. These guests were from Omsk and owned a packaging factory in Russia. One of the guests spoke excellent English and was really interesting listening to her talk about life in modern-day Russia and the current political situation. This is the thing we like most about running a B & B, meeting so many wonderful people from all corners of the globe.    
Greg has been busy as usual in the garden and we have been eating lots of fresh organic veges from the vege patch. The garden has been full of birds and the Tuis have been using the bird feeders recently installed. We also have a lot of cute little swallows who like to nest under the eves. Our neighbour, Ian who is a first-rate photographer, took some magnificent pictures of these swallows a few days ago. The picture above is an example of his work. It is fun to watch the nest by the front door. This is the second year the swallows have used it.  At the moment the mum is sitting on the eggs but it won't be long before there are little heads popping up.  
The weather is fantastic at the moment. Before Christmas it was a bit wet and wild but now the sun has come out and looks set to stay with long hot summer days and lovely warm evenings. We have been having all our meals out on the deck which of course the guests just love with magnificent views of the Mount as the sun goes down.