The festive season is upon us and it is all go at Kaimai Country Lodge.  We are expecting a full house over the Christmas and New Year period.
We have a couple coming from Hong Kong for 5 nights and several people from the UK.   Our guests are keen to dine with us on Christmas Day so we are busy planning a luscious Christmas menu.  There is a wonderful selection of fresh produce grown locally at this time of year including avocados, asparagus, strawberries and raspberries to name but a few.  We have a wonderful Farmer's Market on Friday afternoons from 4-6pm down in Katikati so I will be checking that out this week and picking up some lovely Christmas treats no doubt.
Our garden
We have lots of veges in our own garden which Greg and our daughter in law Courtney have so diligently attended to over the year. They are both avid gardeners.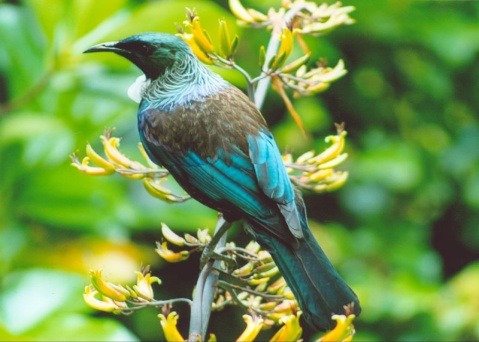 It is only 2 years since we completed construction of our lodge and it is incredible to see how much everything has grown in that time.  We have planned lots of native trees in an effort to attract local native birds and it is wonderful to see the Tui's in particular now flocking to the flax flowers.  They are such beautiful birds, I think of all the New Zealand natives they are my favourite.
Family Christmas
We will be joined for Christmas by our eldest son Daniel who has just moved back from Melbourne with his wife Courtney and gorgeous son Oscar, aged 2.  Christmas is always such fun with a child in the house.  Our middle son Oli from Wellington will also be staying while Nick our youngest is staying in Melbourne for Christmas but coming home in January.  He has just finished an architectural degree at Melbourne Uni and is now looking for a job as an intern in an architect's office.
Cycling on the Hauraki Rail Trail
Greg and I have recently been trying out the local Hauraki Rail Trail.  As we live close by we have done it in stages, doing about 25 kilometres a day.  It is a wonderful addition to the local scene and provides hours of great outdoor activity and exercise.  Our favourite part of the rail trail is the section between Waikino and Waihi Township.  The Trail meanders through the Karangahake Gorge along the river bank and is truly beautiful.   Greg had to get off his bike every now and then to check the river for trout, he can't help himself.
This is my first ever blog by the way.  Viv Barakat from Lumina Web Solutions has just put together a new website for us which is very exciting.  It will be live for Christmas which is great. We really like working with Viv as he is very flexible and open to ideas.  He has a great knowledge of website construction and design and is able to call on his wife Asse who is a keen photographer when photographs need tweaking. They make a great team. I really like working with Viv because it is one to one and the contact person is always the same which makes it all so much easier.
For any of our guests past or future reading this, we wish you a very happy Christmas and best wishes for 2014.
Margie
Kaimai Country Lodge owner / manager.