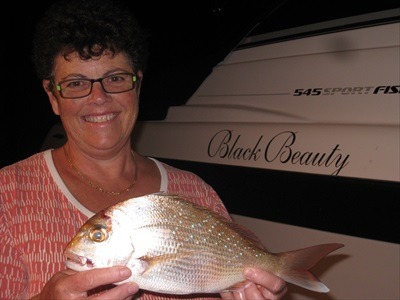 Greg and I have recently bought a boat which we plan to use to take guests out fishing or just for a morning or day on the water.  We are spoilt for choice in the Bay of Plenty (hence the name).  We have many beautiful lakes and rivers nearby as well as the gorgeous coastal waters and the Tauranga Harbour which is a wonderful area to fish in or just cruise around, stopping off at Matakana Island for lunch and a swim.  
We have enjoyed christening our boat with first a family trip to Lake Okataina where Greg caught a handsome looking trout.  Then last night we had a glorious evening on the harbour.  It was 24 degrees with a gentle breeze, warm and sunny.   The sunset was lovely with the hills surround the bay framed in soft blues and yellows .  I caught my first ever snapper which we are having for lunch today.  Nothing quite beats freshly caught fish with a salad from the garden for a healthy, yummy lunch.  
If guests are wanting to experience some fantastic New Zealand fishing we are happy to put together a package to suit your dates using an expert local fishing guide.  He is happy to take you no matter what you level of experience is, novice to expert or somewhere in between.