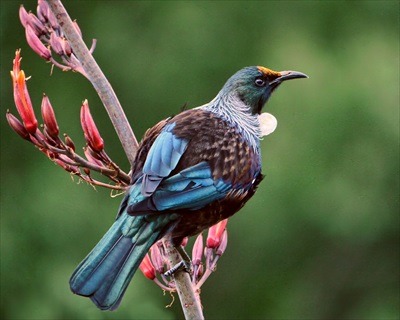 For the past 3 years Greg and I have been focused on developing a garden full of native New Zealand plants with the aim of attracting as many native birds as possible in particular the Tui. For a few weeks we have been wondering why the Tui's aren't coming to the garden as the flax bushes have started to flower. Tui's get a lot of food from flax flowers. Well this week they have arrived and in ever increasing numbers which is very exciting to see. They are such beautiful birds, with a very distinctive call and each day they seem to get more used to us and are now happy to stay in the garden while we are outside and flit about from flax to flax and also into the kowhai trees.
We also have quite a few little black rabbits. While they look very cute they do rather a lot of damage to the garden so they are not so welcome. Black bunnies are very rare in the wild so all we can assume is that someone has released a wild black bunny that has mated with a brown one. They are awfully cute but Greg is worried they will eat all his new vegetables that he has just planted. This week has been busy with lots of guests coming and going.
The Bay of Plenty Art and Garden Fest starts next week and runs for 7 days. It is a bi-annual event and is very popular with locals.  It takes a good 2 or 3 days to get around all  the gardens. They are mainly private gardens that just open to the public occasionally for this festival. Not only are many of the gardens fantastic but they have lovely houses and some great art works on display and for sale.  Some of the properties offer cafe facilities so it is a great day out with plenty of refreshments en route.