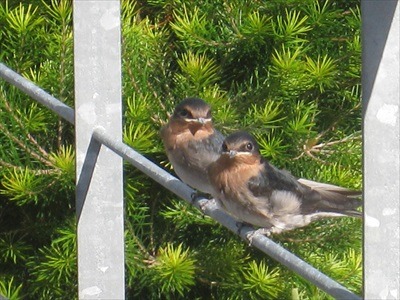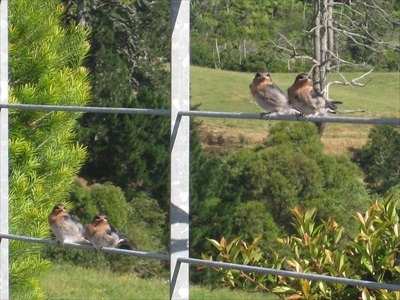 2 years ago a swallow family moved into a house they built under the eaves of the lodge. A few days ago there was a lot of coming and going of the parents  from the nest and when we took a peep up at it there were 4 little faces peeping back at us. The following day the babies had left the nest and were sitting along the gate hence the photos. They were very tame and allowed us to get within a metre of them to take the photo and eventually their parents coaxed them away and they flew off across the field next door.
It has been all go recently at the lodge besides being a maternity hospital for swallows we have had lots of interesting guests. At the moment we have some very friendly people from Sussex in the UK and they are loving the gorgeous weather we are having. It is virtually a drought at the moment and our poor plants are looking rather thirsty. Luckily we are able to get water from a natural spring on the farm next door so can water the fruit trees with that.
Tonight Katikati is having it's 2nd "Twilight Concert" with The "Che Orton Band" playing music by Elvis, Buddy Holly and Neil Diamond". These are very popular events held annually in the Haiku Reserve in the centre of Katikati Township in a park adjacent to the Uretara Streem which is a little river that meanders through the town. The next concert of the series is on the 14th Feb when the "New Zealand Blues Brothers" are playing. So if you are thinking of coming to stay in Katikati that would be a great weekend to come. These concerts are informal affairs where people bring a rug or camp chairs, a picnic and a bottle of wine and enjoy the music on lovely summer evenings.
A great time to visit New Zealand at the moment we are in the grip of a heat wave (mild) compared to heat waves else where in the world. Our heat waves are very comfortable with temperatures in the mid to late twenties every day.