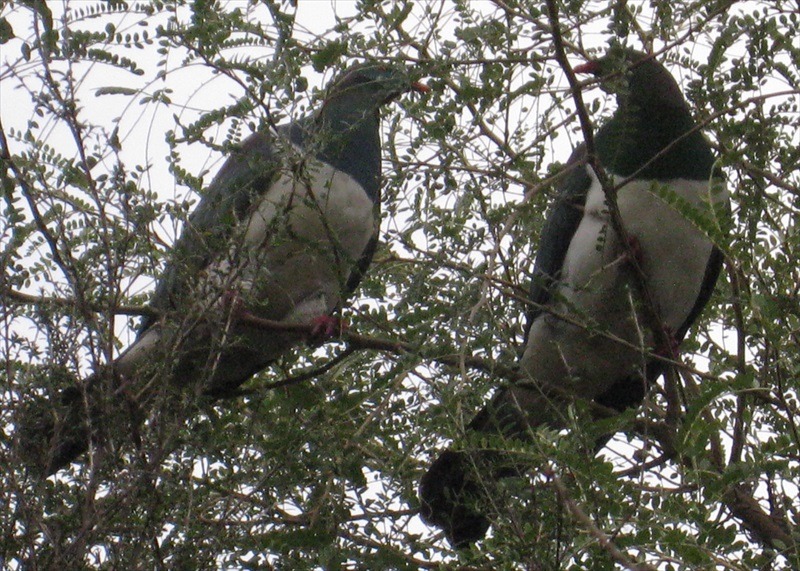 Two Kereru (NZ Wood Pigeon) feeding in our Kowhai tree.
There is never a dull day in our garden and always something new to look at especially with Spring approaching.  While Greg has been busy pruning the fig trees,  I have been trying to take photos of 2 gorgeous fat wood pigeons (kereru) sitting in one of our gum trees.  They really are the most magnificient birds, the size of a large chicken and and with stunning colouring. 
For the past 7 years one of our main objectives in planting native trees in our garden is to attract lots of native birds.  Every year brings a new species to our garden and although in the past we have had an occassional Kereru visit this year they are coming in pairs and staying longer in the garden.  We are very excited, they are such beautiful, large birds.  They have been in the garden for at least an  hour, first having a snooze in the gum tree and then moving over to the Kowhai for a feed.  While in the kowhai a couple of Australian parrots flew over, and the pigeons sat up and although so much bigger than the parrots they looked alert and moved together making taking a photo easier.  Although they have white fronts and sides and beautiful turquoise green, blue and pink plumage they somehow manage to merge into the trees and are quite hard to photograph especially on my old point and click camera.  We are also pleased to have lots of Piwakawaka (NZ fantail) now as permenant residents in the garden.  They also took years to feel at home here but now are always near by and very friendly. They flit around us in the garden almost flying into us and squeaking a happy chirp as they dance around.  If you love native birds and trees you will really enjoy staying here and wandering through our garden. 
In our orchard we have about 15 orange trees which are now producing a daily abundance of oranges.  After squeezing some fresh for breakfast and using them in cooking and fruit salads we also use the skins for making candied peel which will be a new product for us to sell this Christmas at our local farmers market through our stall called "The Red Hen Pantry".  Many of our guests have been enjoying our jams and preserves for breakfast and often buy some to take home as gifts for their friends and family back home.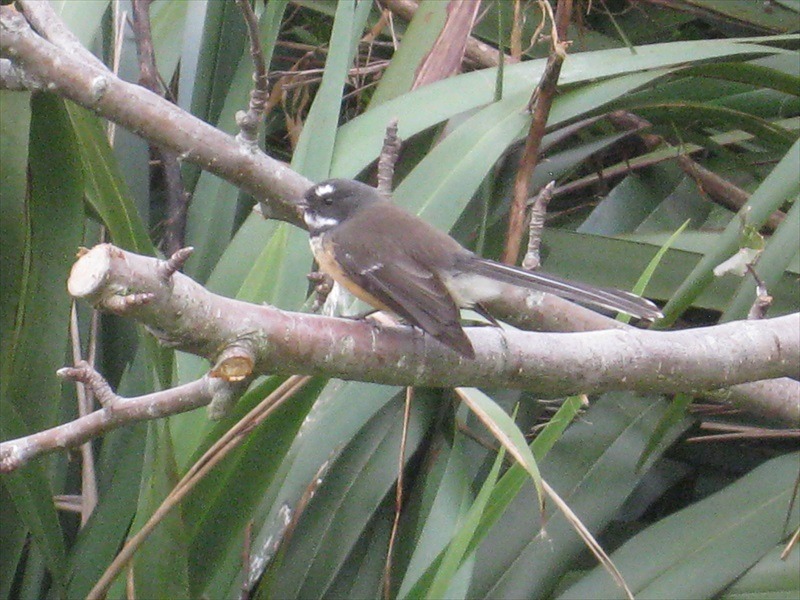 A Piwakwaka (NZ Fantail) resident in our garden.